Happening Now
19th Annual Southwestern Rail Conference
Date
Monday, April 3, 2023 9:00 AM Tuesday, April 4, 2023 5:00 PM
Location
Hurst Conference Center 1601 Campus Dr Hurst TX 76054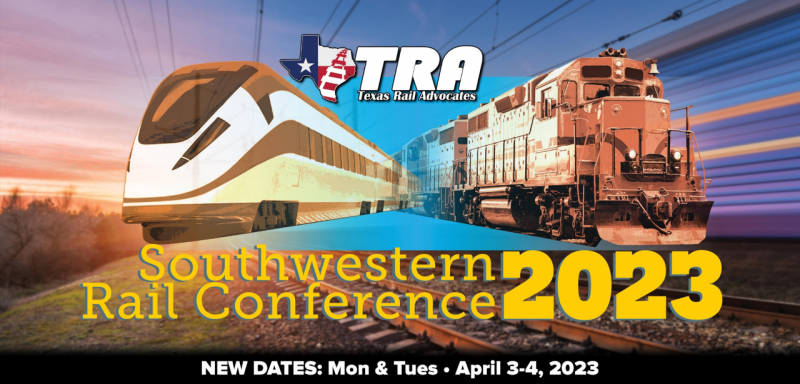 The
19th Annual Southwestern Rail Conference
will be held April 3-4 at the Hurst Conference Center in the Dallas-Fort Worth Metroplex.
You'll hear presentations from
Rail Passengers Association President/CEO Jim Mathews
, from the Surface Transportation Board, Texas Department of Transportation, Southern Rail Commission, Union Pacific Railroad, Texas A&M Transportation Institute and more.
Rail Passengers Association members can save $130 off this premier two-day passenger and freight rail conference during the month of February with a special code. Full registration and meals, normally $329 is discounted to $199 for Rail Passengers members in good standing during February only.
To register use this link:
https://www.texasrailadvocates.org/events/2023-southwestern-rail-conference/
, click register and follow these steps:
Click Register for the SW Conference
Complete all fields on the registration page
Choose April 3 &4, full conference and meals
Don't panic when the full registration of $329 pops up. Type RPA into the field labeled Registration Code (optional) and press enter
Your registration as a member of Rail Passengers Association will revert to $199
Complete your payment and you will receive confirmation
"Saving the Pennsylvanian (New York-Pittsburgh train) was a local effort but it was tremendously useful to have a national organization [NARP] to call upon for information and support. It was the combination of the local and national groups that made this happen."
Michael Alexander, NARP Council Member
April 6, 2013, at the Harrisburg PA membership meeting of NARP