Happening Now
Archive -- Rail Passengers Advocacy Webinar
Date
Wednesday, May 27, 2020 2:00 PM Wednesday, May 27, 2020 3:30 PM
Location
Zoom Video Conference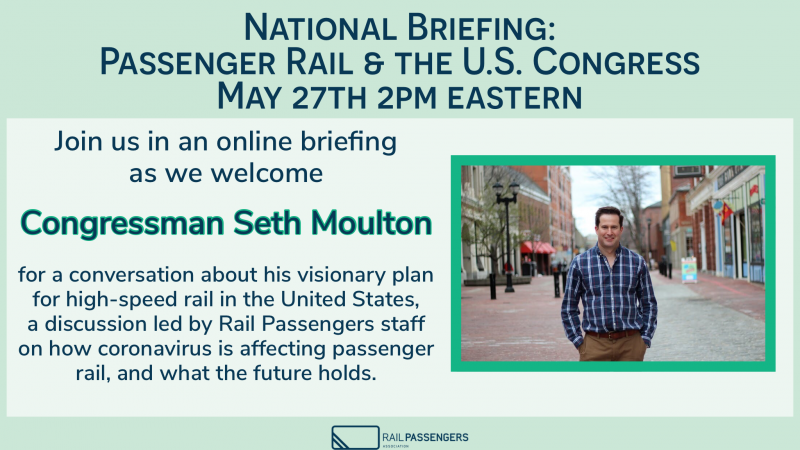 Join us May 27th at 2pm Eastern, when Rail Passengers senior staff will share the latest passenger rail policies in the U.S. Congress.

While the virus risk and new health and safety restrictions have indefinitely delayed our ability to gather in place, the work we're doing needs to continue. Rail Passengers is hosting a webinar looking at the ability of rail and transit service providers to weather this storm, and what a return to normal will look like. Topics will include:
An overview of the first four phases of coronavirus legislation, and its effect on rail and mass transit;
Our analysis of the HEROES Act unveiled by the House Democrats this month, and its prospects in the Senate;
Current levels of service across the Amtrak network, and what it will take to get passengers safely traveling again;
Future funding needs for transit and rail in upcoming packages; and
Strategies for ensuring passenger rail projects are included in any infrastructure packages.

We'll also field your questions, so we hope you join us! Please RSVP if you plan on attending.

This conference will be hosted on Zoom. Access instructions and links will be sent to all registrants prior to the 27th.

If you are a member of another advocacy group and you think they might be interested in attending, please feel free to share this invitation with them.
SCHEDULED AGENDA:

2:00pm – Overview of call structure and agenda – VP Sean Jeans-Gail
2:02pm – Introductory remarks – Chairman Peter LeCody
2:05pm – Where the rail network is today, and what an organized reopening would look like – President & CEO Jim Mathews
2:20 pm – Update on Intercity Rail in CARES and HEROES – Jeans-Gail
2:35 pm - Moderated Q&A - Field Coordinator Joe Aiello
2:45 pm – Round table discussion with Rep. Moulton & Jim Mathews
3:00 pm – Tease of next month's webinar
"Saving the Pennsylvanian (New York-Pittsburgh train) was a local effort but it was tremendously useful to have a national organization [NARP] to call upon for information and support. It was the combination of the local and national groups that made this happen."
Michael Alexander, NARP Council Member
April 6, 2013, at the Harrisburg PA membership meeting of NARP