Happening Now
Rail Passengers Association Virtual Day on the Hill
Date
Sunday, April 18, 2021 12:00 PM Tuesday, April 20, 2021 5:00 PM

Take a pledge and sign up for our "Week of Action" email alerts!

We have officially opened registration for the 2021 Rail Passengers Virtual Day on the Hill taking place on Sunday, April 18th through Tuesday, April 20th. More information and a full agenda will be available in the coming weeks, but we're working to arrange an exciting program of guest speakers and practical sessions to help you make the most of your virtual meetings with congressional leaders and staff. Join us to make sure you have the tools and latest information as you advocate for "A Connected America" with your elected officials on the Hill during our second annual National Day of Action!

The cost for the event is $45 and that includes:
Board & Council business meeting on Sunday;

Advocacy sessions on Monday featuring presentations and updates from staff, Amtrak, and federal officials;

Tuesday's Virtual Day on the Hill.
Please note that holding these sessions online dramatically reduces the cost of our Spring activities when compared with an in-person meeting, and also makes it possible for many more members to attend...including YOU! Online meetings reduce cost, but they don't eliminate it -- there are direct and indirect expenses associated with producing an event of this scope, including our online meeting hosting services and our paid Zoom licenses. Your registration fee goes to offset those expenses involved with production of the meeting.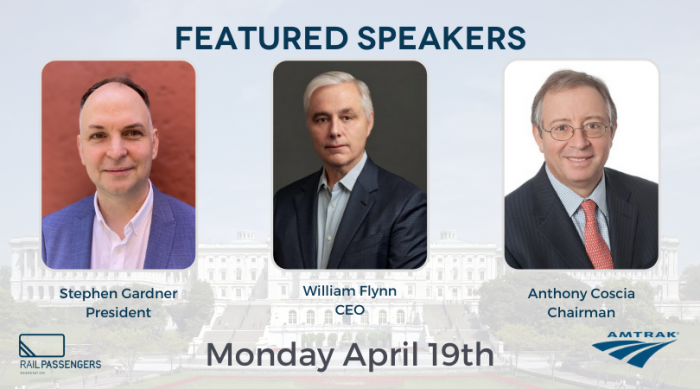 REGISTER NOW

NOTICE: If you have funds in reserve from a RailNationDC 2020 registration, those monies aren't eligible for use with this event. They may be applied to the next RailNation in person event, which as of today is expected to take place in September. If you have any questions regarding RailNation 2020 funds, please contact Jonsie Stone at [email protected]
"When [NARP] comes to Washington, you help embolden us in our efforts to continue the progress for passenger rail. And not just on the Northeast Corridor. All over America! High-speed rail, passenger rail is coming to America, thanks to a lot of your efforts! We're partners in this. ... You are the ones that are going to make this happen. Do not be dissuaded by the naysayers. There are thousands of people all over America who are for passenger rail and you represent the best of what America is about!"
Secretary Ray LaHood, U.S. Department of Transportation
2012 NARP Spring Council Meeting