Happening Now
Rail Passengers Webinar Series: A Timely Conversation on Metrics & Standards
Date
Wednesday, June 29, 2022 3:00 PM Wednesday, June 29, 2022 4:00 PM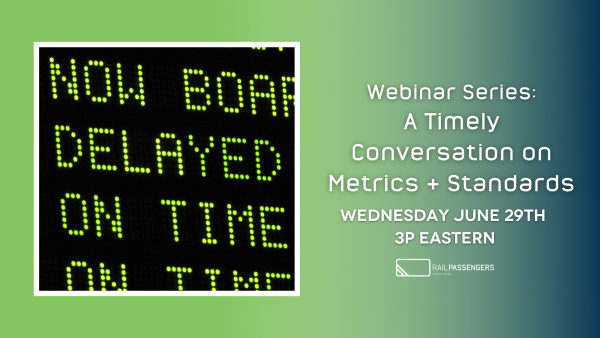 REGISTER NOW!

In July 2021, Federal rules took effect covering late trains and customer service – rules we worked more than 10 years to get out of the courts and into the books. If you strip away the formulas and formality, the bottom line is this: the FRA, the Surface Transportation Board, Amtrak, and the Rail Passengers Association are all now keeping score and enforcement could be just around the corner. With three of Amtrak's long-distance trains running late 87% of the time last month, this conversation couldn't be more timely.
Join us on Wednesday, June 29th at 3pm eastern when RPA CEO Jim Mathews will sit down with Amtrak's Host Railroads Group to talk about today's late trains and what all of us can do about it to make it better. Plan on attending? Submit your questions! Send in your topic specific questions to Madison Butler at [email protected] with the subject line "M&S Webinar" to be answered during the event. Questions will be due by Friday, June 24th.


Registration will close Monday, June 27th at Midnight eastern. Space, as always, is limited to 475 participants, so reserve your spot now. The Zoom link will be sent to you the day before the event.

***NOTICE: Please make sure that @narprail.org email addresses are approved in your inbox and not going directly to spam. We are getting messages from people saying that they are not receiving confirmations or the webinar links when they are sent out - though our system is showing that they were. If you are using Gmail, please check your "promotions" folder***

Miss out on our past events? You can watch them on our YouTube channel or through our website at railpassengers.org/webinars
"The Rail Passenger Association's recognition of the essential work done by SMART-TD members aboard Amtrak during this difficult period is appreciated. The Golden Spike Award serves as a testament to the compassion and dedication our conductors, assistant conductors and other workers exhibit constantly through times both ordinary and extraordinary."
Jeremy Ferguson, SMART-TD President
December 21, 2021, on the Association awarding its 2021 Golden Spike Award to the Frontline Amtrak Employees.