What do you get for $5 a month?
A louder, more effective voice advocating for improved and expanded passenger rail.
The Rail Passengers Association is an IRS-designated 501(c)(3) organization. Your dues and donations are potentially tax-deductible. Benefits vary based on membership level.
It is essential that we defend and fight for a modern, national passenger rail network.
Rail Passengers Association works tirelessly every day to do just that.
Join Now
For the cost of one latte a month, you can help us improve America's rail system and enjoy these exclusive member benefits.
10% off
most fares and vacation packages*
Earn Amtrak Guest Rewards® points
for your membership dues*
5% discount
on Coach, Business, and Sleeper Plus Classes
10% discount
on all classes of service
20% off
Adventure Class fares in summer and winter
20% off coach
or 10% off vacation packages

15% off
all fares on trips and tours
up to 25% off
eligible car rentals
10% off
lodging in La Plata, Missouri
Annual subscription
to our respected newsletter
Exclusive access
to the members-only section of our website
Half off or more
on car rentals, Disneyland tickets, Broadway shows, and more

Advocate Member
status in the non-profit organization that represents all travelers
Vision insurance
and hearing aid savings
Rail Passengers Association is the only non-profit member-dues supported organization serving as a voice of the American passenger on Capitol Hill for improved Amtrak services.
Your dues and donations help us work to build support for a modern, more efficient national passenger rail network, as we have since 1967.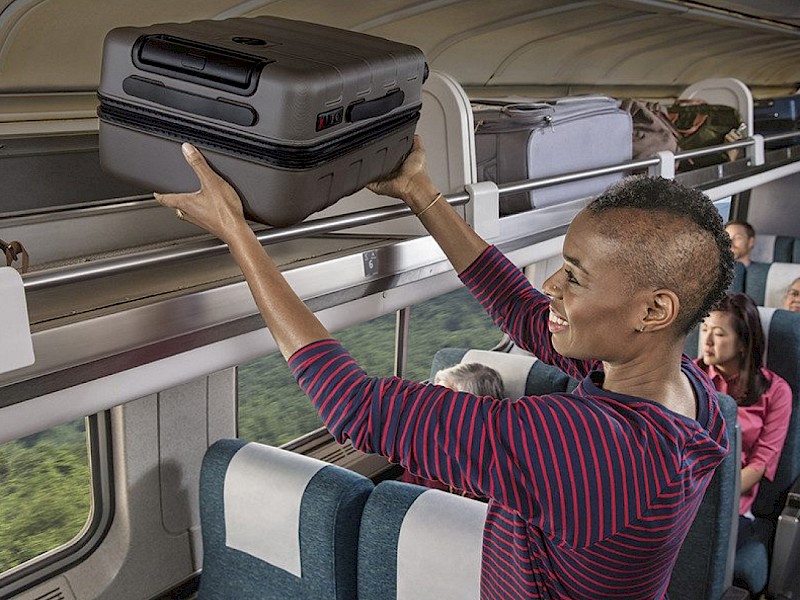 Start saving money. Start making train travel better.
We're more than a discount club.
Join Now!
You will receive a Rail Passengers Association membership number, which is required for making Amtrak reservations using the "Rail Passengers Association" discount, immediately upon confirmation of payment for your membership via email. You may also create an account on www.railpassengers.org immediately to get a temporary membership card containing your membership number. Please allow 4-6 weeks to receive your welcome packet with your membership card(s) by USPS. If you have no email address and need your membership number immediately, please call Rail Passengers at 202-408-8362 during business hours (9:00 AM-5:00 PM ET, Monday-Friday except federal holidays).
Benefits received vary by membership level. For more information, please see our printable membership benefits comparison chart.
Amtrak Fares
Rail Passengers Association members are entitled to a 10% discount on most Amtrak rail fares, subject to the following conditions:
Rail Passengers Association members should identify themselves as such when booking a ticket, and must carry a current, valid Rail Passengers membership card when paying for tickets in person and while traveling. Each passenger must be in the possession of and present upon request a valid membership card with his or her name on it.

Reservation must be made or altered at least 3 days in advance of the departure day of each trip segment. For example, if the departure time is 11:00 PM on a Friday, discounted reservations may be made until 11:59pm on the prior Tuesday night.

The discount applies only to the base "rail fare". The discount does not apply to any and all additional "accommodation charges" for Premium fares -- sleeping car, First class, and Business class (except weekend Acela Express).

The Rail Passengers discount cannot be combined with any special or promotional fare or promotion code, including "Saver" fares. When "Rail Passengers Association" is selected as the Passenger Type, "Saver" fares will not be displayed. The Rail Passengers discount also cannot be combined with Senior, Child, Infant or Military discounts, nor with any other discount (including ten-trip/monthly passes or USA Rail Passes).

On Auto Train, the Rail Passengers discount is good only for the rail fare (not the vehicle charge or sleeper accommodation charge). The Amtrak Senior discount is not valid on the Auto Train, but the Rail Passengers discount is!

The discount is only valid for Business Class tickets on weekend Acela Express trains, not weekday service.

The discount is valid on Amtrak's Northeast Regional service between Newport News/Richmond, Washington, Philadelphia, New York and Boston/Springfield every day, except for "Saver" fares.

The Rail Passengers discount cannot be used on the Canadian portion of the New York-Toronto 'Maple Leaf' service, which is operated by VIA Rail Canada between Niagara Falls, ON and Toronto, ON, nor on some Thruway bus routes. It CAN, however, be used fro cross-border to or from Montreal, QC on the 'Adirondack' service and to or from Vancouver, BC on the 'Cascades' service.
Amtrak Guest Rewards®
If you are an Amtrak Guest Rewards® member, you can earn points for paying your Rail Passengers Association membership dues or making special contributions to the Rail Passengers Association. You may redeem your points for free Amtrak travel, hotel stays, car rentals, gift cards, and more. Simply enter your Amtrak Guest Rewards number in the designated field.
Please allow at least 4-6 weeks for points earned from Rail Passengers to post to your account. You must be a member of the Amtrak Guest Rewards program and have received your Amtrak Guest Rewards program ID number prior to signing up for a Rail Passengers Association membership. All Amtrak Guest Rewards® terms and conditions apply.
Rail Passengers Association New Member AGR Levels
| Membership Level | Annually | Amtrak Guest Rewards | Accounts |
| --- | --- | --- | --- |
| Individual | $60 | 400 Points | 1 |
| Student | $50 | 200 Points | 1 |
| Senior | $50 | 200 Points | 1 |
| Family | $80 | 800 Points | 4 |
| Sustaining | $125 | 900 Points | 4 |
| Advocate Bronze | $160 | 1000 Points | 5 |
| Advocate Silver | $290 | 4000 Points | 6 |
| Advocate Gold | $550 | 5000 Points | 7 |
| Silver Rail Society | $1000 | 15000 Points | 8 |
| Silver Rail Society PLUS | $2500 | 25000 Points | 10 |
"When [NARP] comes to Washington, you help embolden us in our efforts to continue the progress for passenger rail. And not just on the Northeast Corridor. All over America! High-speed rail, passenger rail is coming to America, thanks to a lot of your efforts! We're partners in this. ... You are the ones that are going to make this happen. Do not be dissuaded by the naysayers. There are thousands of people all over America who are for passenger rail and you represent the best of what America is about!"
Secretary Ray LaHood, U.S. Department of Transportation
2012 NARP Spring Council Meeting