Happening Now
NEC Project Inventory ID's Major Investments
November 18, 2022
NEC Project Inventory Provides Multi-Year Blueprint for Next Steps on Passenger Rail
The Federal Railroad Administration (FRA) released a list detailing $24 billion in priority passenger rail projects along the Northeast Corridor this week. The list will help greenlight the disbursement of federal rail funding for projects to address maintenance backlogs and chokepoints along the busy passenger rail corridor. The funding is authorized by new federal passenger rail grant programs created by the Bipartisan Infrastructure Law (BIL), enacted into law in November 2021.
The BIL requires the Federal Railroad Administration (FRA) to release an annual NEC Project Inventory once a year. The inaugural list includes 68 total projects divided into two categories: 15 "Major Backlog Projects" and 53 "Capital Renewal, Stations, and Improvement Projects".
"Modernizing and expanding the NEC through a transparent and well-organized approach will mean faster trips, fewer disruptions, improved safety, and an overall better experience for the hundreds of thousands of riders who depend on the corridor daily," said FRA Administrator Amit Bose. "The NEC Project Inventory will allow FRA, States, and stakeholders to fully capitalize on the transformative opportunities afforded by the Bipartisan Infrastructure Law by clearly defining our rail development goals and targeting investments where they are most needed."
The NEC Project Inventory will not only fund existing projects that have been deferred due to a lack of funding, it will also assist Amtrak, the States, and the public to do the necessary planning to create a pipeline of improvements and upgrades.
"The U.S. passenger rail network is suffering from decades of neglect, and it won't be solved in a year, two years, or five years," said Rail Passengers Association President Jim Mathews. "We're pleased that the FRA is promoting this list to the public to help passengers better understand where BIL funds are flowing and how these projects will improve the experience of using the network."
The list prioritizes projects that will be in construction or begin construction by 2024, with a second tier for projects that will be in development by 2024. Finally, the FRA identifies a third tier for projects that aren't far enough along to be started by 2024, the year that BIL advanced appropriations expires.
The list won't be a surprise to anyone who's traveled along the NEC, with the 'tier one' projects a who's who of projects that have been ruining passengers travel plans and commutes for decades:
Gateway: Portal North Bridge - NJ TRANSIT
B&P Tunnel Replacement Program - Amtrak
Gateway: Hudson Tunnel Project - Gateway Development Commission
Walk Bridge: Replacement - Connecticut DOT
Connecticut River Bridge Replacement Project - Amtrak
Susquehanna River Bridge Replacement Program - Amtrak
Gateway: Highline Renewal and State of Good Repair: Dock Bridge - Amtrak
East River Tunnel Rehabilitation Project - Amtrak
Projects will need to be on the NEC Inventory List to access NEC-designated funds from the Federal-State Partnership for Intercity Passenger Rail Program (see below). States or Amtrak will be required to provide a local funding match, with a maximum federal share of 80 percent. The FRA intends to issue a Notice of Funding Opportunity for Fed-State Partnership grants before the end of 2022.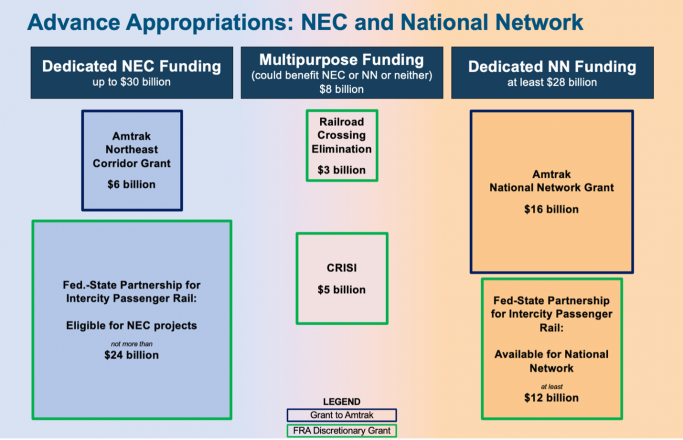 [Image courtesy Amtrak]
The FRA is also currently working on the Corridor Identification Program, which will provide a similar project inventory for National Network projects.
"The Corridor ID program is intended to (define) the pipeline similar to the Northeast Corridor Inventory. This first round Corridor ID is not quite caught up and we didn't want to hold back the first year of the Federal-State program, but in subsequent years we are going use the Corridor ID pipeline list for prioritization," Bose told Trains Newswire.
"The Rail Passenger Association's recognition of the essential work done by SMART-TD members aboard Amtrak during this difficult period is appreciated. The Golden Spike Award serves as a testament to the compassion and dedication our conductors, assistant conductors and other workers exhibit constantly through times both ordinary and extraordinary."
Jeremy Ferguson, SMART-TD President
December 21, 2021, on the Association awarding its 2021 Golden Spike Award to the Frontline Amtrak Employees.