Happening Now
Return to Commuting Day 1
June 4, 2021
Jonsie Stone, Rail Passengers Association's VP of Resource Development and Operations, shares her first commuting experience since March 2020.
I forgot how rude my alarm sounds at 4:45 am but I didn't mind it Tuesday morning. I got out of bed and started my old morning routine. Boy did that feel good, a return to the old normal for the first time since March 2020.

At 5:40 am, I backed out of my garage to drive to the Virginia Railway Express (VRE) Broad Run station. Depending on traffic, it's a 10-15 minute drive from my house. The Broad Run station is the first departure point, on the Manassas line, heading North to Washington DC - where the Rail Passengers Association's office is headquartered. Before March 2020, the VRE parking lot would have already been more than half full when I pulled in at 5:50 am and that's what I was expecting to see Tuesday morning. I kept waiting for a flood of cars to race into the parking lot with passengers to catch train 326 which departs Broad Run at 6:15 am but that didn't happen. At 6:05 am, train 326 made its way from the yard to the platform and as I'd done numerous times pre-pandemic I stood first in line, there were two of us waiting, to board my car...I like the first row of seats right behind the luggage area hence the importance of being first. I assumed my old position in the seat by the window. Earbuds in. Music on. At 6:15 am train 326 departed Broad Run headed to Washington, DC. Boy did it feel good to be back on my train. I missed seeing some of the usual faces. I hope they are safe and well.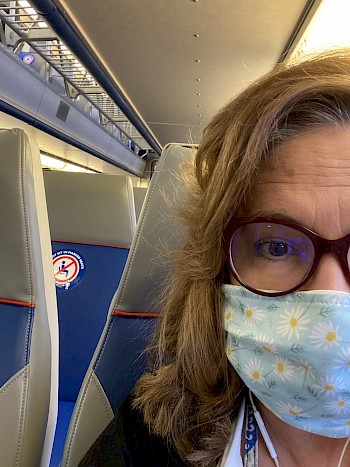 The trains and stations are marked well with safety reminders and announcements were made on board periodically reminding passengers masks are required while riding. As train 326 started arriving at stations where passengers normally disembarked, around 7:06 am, I noticed my fellow passengers were very respectful of each other. Masks were being worn and social distancing was being practiced.

At 7:30 am, train 326 arrived at Union Station in Washington DC, I'd reached my destination. I transfer to Metro to finish my commute to the Association's office. This is my first time at Union Station since March 2020. It looks similar but different. Progress on various construction projects has been made. There are fewer seats around the gates and fewer people. Let me stress that, FEWER PEOPLE. A lot of the restaurants and retail have closed. Before March 2020, Union Station was bustling and electric and full of commuters, travelers, restaurant patrons, etc. Not Tuesday. To see Union Station in such an altered state made my heart hurt.

The Metro platform at Union Station would normally be full at 7:35 am but not Tuesday. It was very eerie. After waiting for approximately 6 minutes a relatively empty Metro train arrived. All passengers were wearing masks and practicing social distancing in the seating arrangements. Pre pandemic, the Metro train would have been standing room only. Three stops later, I'd reached my stop at Metro Center.

After grabbing a coffee and checking the mailbox, I was in my office at 7:50 am, a little more than 2-hours from when I backed out of my garage. The Rail Passengers Association's office is not officially open to visitors. I'm fully vaccinated and made the decision to return to the office one day a week to address Association administrative and operational needs from on-site. Our intent is to reopen in September.

As I reflect on my first commute in more than 15-months, two thoughts are immediate.

First, I never felt unsafe. Commuters on both VRE and Metro were wearing masks, as required by federal mandate and practicing social distancing. I encourage my fellow commuters in the District of Columbia, Maryland, and Virginia area to get off the roads and let VRE, Metro, or MARC do the driving for you.

Second, I'm struck by how often I thought about others. I've been a VRE commuter for many years…standing in line to board with the same people, discussing the Washington sports teams' latest wins/losses, saying good morning, and have a good evening to the same conductors year in and year out. I want to know if they are healthy, safe, working, furloughed, unemployed. I'm concerned about them.

If you've returned to the rails, what was your experience like?


CLICK ON THE IMAGES BELOW TO ENLARGE









"The Rail Passenger Association's recognition of the essential work done by SMART-TD members aboard Amtrak during this difficult period is appreciated. The Golden Spike Award serves as a testament to the compassion and dedication our conductors, assistant conductors and other workers exhibit constantly through times both ordinary and extraordinary."
Jeremy Ferguson, SMART-TD President
December 21, 2021, on the Association awarding its 2021 Golden Spike Award to the Frontline Amtrak Employees.