Happening Now
Hotline #1,140
October 25, 2019
Still Time To Vote In Our Top 10 Routes Poll; Sen. Durbin Sends Letters To Amtrak And FRA on OTP; Amtrak: Host Railroads Responsible For OTP Issues; House Transportation Committee Democrats Aren't Involving Their Republican Counterparts In Work On A Surface Transportation Bill; Budget Briefing; Gateway Sought In Surface Bill; City of Martinsburg Unanimously Approves MARC Funding Contribution; CalSTA Seeks Grant Applicants For Transit, Intercity Rail Projects; Vegas Train On Track To Break Ground In 2020; Atlanta To Charlotte In 2 Hours 6 Minutes?; Plan To Award Honolulu Rail's Final Contract Reaches Point Of No Return; L.A.'s Blue Line Reopening Soon, With A New Name; Winter Park Express Ski Train Expanding Service To Include All Fridays
Tell Us What's Happening Where You Live! When you see rail-related news stories, op-eds, editorials, or letters to the editor in your communities, send them along to us! We will include them in our social media efforts, along with the weekly Hotline. Send your news items to Joe Aiello at jaiello[at]narprail.org, and we will share it with members. Are you holding a rally, a community meeting, or another kind of rail-advocacy event? We can help spread the word if you send them to us. We can put them on the website here. Please follow Rail Passengers on Facebook and Twitter to stay up to date on all things passenger rail.
Still Time To Vote In Our Top 10 Routes Poll
Have you voted in our Top 10 Routes poll?
Rail Passengers is spending the 31 days of October comparing 31 of the most exciting potential new train services, and we're asking passengers to tell us what their favorites are.
A bit more than three weeks in, we've already had nearly 3,500 responses! Vote now to get us over 4,000!
Moving Up In The Rankings: The Pioneer and the North Coast Hiawatha. Both these routes would serve folks who once enjoyed rail service and have been cut out of the map.

Favorite New Long-Distance Route: Daily Cardinal. Passengers are looking for frequent, reliable service to connect the East Coast to the Midwest. And with few transportation alternatives in West Virginia and Ohio, it makes sense that this route has risen above the rest. It's followed very closely behind by the Daily Sunset.

Favorite New State-Supported Route: Montrealer. Just in time for winter hockey season, passengers are clamoring for restored service between New York and Montreal. (Juste à temps pour la saison de hockey d'hiver, les passagers réclament un service rétabli entre New York et Montréal.)

Favorite New High-Speed Route: Las Vegas - Los Angeles High Speed Route. Connecting two of the premiere travel markets in the U.S., this potential high-speed route is a can't miss bet.
Don't see your favorite new train service on this list? DON'T GET MAD, GET ACTIVE! Vote Now!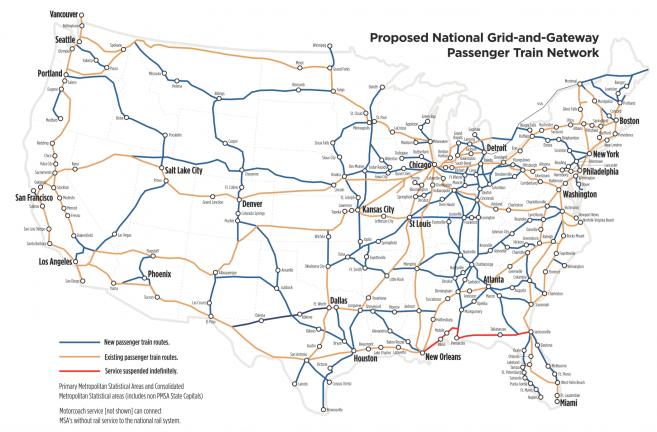 ---
Sen. Durbin Sends Letters To Amtrak And FRA on OTP
Amtrak's Inspector General (OIG) reports that making 75% of trains run on time could save Amtrak nearly $42 million every year, and Senator Dick Durbin (D-Ill.) this week issued letters urging CEO Richard Anderson and Federal Railroad Administration chief Ron Batory to tackle the problem head-on.
The OIG report came in response to a Durbin-led amendment to last year's appropriation, a tough stance that's not unsurprising given that the Illini/Saluki trains running through Durbin's state of have suffered on-time performance (OTP) as poor as six percent at the hands of host railroad Canadian National.
"As you are well aware, freight railroads continue to ignore their statutory obligation to provide Amtrak with preference on their tracks," Durbin wrote Tuesday to FRA Administrator Ron Batory. "As a result, freight interference has hampered Amtrak's financial stability as well as reliability for riders -- and it caused roughly 60 percent of Amtrak's delays in FY2018."
Durbin noted that he has consistently taken an active role in pressuring Canadian National to hold them accountable for delays on the Illini/Saluki route through his state. That situation became so bad that Amtrak has a case pending with the Surface Transportation Board for relief against CN, a case in which the Rail Passengers Association has filed a supporting brief.
In his letters to Batory and CEO Richard Anderson, Durbin pledged to work closely with both the railroad and FRA "to push CN to improve Amtrak's reliability for Illinois riders." Durbin closed by declaring that "the people of Illinois deserve better -- they deserve assurance that they can arrive at their destination in not only a safe but a timely manner."
For it's part, OIG says that fixing OTP for the long-term would do more than just save on penalties. It could also help Amtrak eliminate the need for extra crews and "protect" equipment that it now maintains strictly to cope with poor on-time performance. In the IG's estimation, that could save Amtrak some $20.5 million a year and give Amtrak a one-time shot in the arm of $336 million -- savings that could be redeployed to support growth and new equipment.
"For example, the company maintains three complete equipment sets to operate the Capitol Limited daily service between Washington, D.C., and Chicago. Officials told us that with better OTP and schedule adjustments, the company could maintain scheduled service with two sets," OIG reported.
Better on-time performance can flow to the bottom line in a lot of different ways. Shorter train run times would reduce labor costs by trimming pay penalties and reducing the need for stand-by staff, and fuel costs would decline due to less train idling. Fewer missed connections would reduce payouts to passengers for hotels and food vouchers. And in some cases, Amtrak won't even sell local tickets to NEC stops on four chronically delayed northbound National Network trains, just because the OTP is so bad that it exposes Amtrak to more problems than additional revenue.
---
Senate GOP leadership is trying to limit the number of controversial amendments to the bill to speed passage on the floor. If the Senate is able to clear the package, leaders from the House and Senate will convene to hammer out the differences between the various bills. While the transportation funding levels are relatively similar between the House and Senate versions, some of the other bill in the spending package will be more difficult to reconcile.
In addition to funding levels, there are a number of policy riders that affect train passengers in both bills. They include directions from Congress to improve communication with stakeholders, replace station agent positions the railroad eliminated, improve relationships with train charter companies, and many other policy riders (which Rail Passengers analyzed over the summer).
While there is new hope for the bills included in the four-bill minibus, Congressional leaders are sounding a note of caution about being able to finish before the current Continuing Resolution runs out on November 21.
"That's probably in the ballpark," Senate Appropriations Chairman Richard Shelby (R-AL) told reporters when asked about another short term budget extension stretching into 2020. "Unless a miracle happens around here with the House and the Senate, we will have to come forth with another CR."
House Democrats, meanwhile, want to keep any additional CRs short to keep pressure on legislators.
"I'll have to have more discussions with them to see why they can't get their work done," House Appropriations Chairwoman Nita Lowey (D-N.Y.) said in response to Shelby's prediction.
House Transportation & Infrastructure Chair Peter DeFazio (R-OR) indicated his committee will move ahead with the surface transportation reauthorization without input from House Republicans, saying their opposition to including climate goals within the infrastructure bill is a red line.
Chairman DeFazio told reporters that House Republicans are "appalled" that Senate Republicans included a climate title within the Senate highway reauthorization proposal, and plan on obstructing any similar provision in the House-led version. Given Democratic control of the House, there are few viable paths to achieve this goal, and Chairman DeFazio warned Democrats will "plow ahead" without GOP help if they stick to their guns.
In other surface transportation reauthorization news, Rep. Mikie Sherrill (D-NJ) called on authorizers to include funding assistance for Amtrak's Hudson River tunnels in the next authorization, calling these components of the Gateway Program the "nation's most urgent infrastructure project."
"This is the definition of a project of national significance," Rep. Sherrill said. "Congress does not like big price tags, so it has continually kicked the can down the road."
In the face of the Trump Administration's continued resistance towards providing federal funding for the project, Amtrak and the Gateway Development Corporation are moving ahead with pre-construction engineering work to ready the project—hoping to be ready in the eventuality that the deadlock in Washington breaks.
---
While the price tag could reach as much as $15.4 billion for a complete build-out, it would mean a reduction in air pollution, create new jobs, and improve mobility for millions of passengers. Advocates have been pushing for this connection for years. Dave Williams, the vice president of infrastructure and government affairs at the Metro Atlanta Chamber, stated that creating better connections throughout the region will "help grow our economy, create jobs and boost our global competitiveness."
An environmental impact statement on the 280-mile Atlanta-to-Charlotte segment has been completed by the two agencies and three possible routes were studied. These routes are:
Southern Crescent; following the Norfolk Southern railroad corridor that hosts the existing Amtrak Crescent long-distance service between Charlotte and Atlanta;

I-85; following the Interstate 85 right of way between Gastonia, NC and Suwanee, and transitioning to existing railroad rights of way in the approaches to the Atlanta and Charlotte, NC termini;

Greenfield; development of a new "greenfield" high-speed rail corridor between Atlanta and Charlotte, and transitioning to existing railroad rights of way in the approaches to the Atlanta and Charlotte termini.
The public comment period on the draft is open for the next 45 days. The GDOT will choose a preferred route and prepare a final study once that period closes.
---
The A line, will still be royal blue on maps but will now feature 4 crossover tracks to reduce delays by adding locations for trains to pass one another on its 22-mile stretch.
This line is to be followed by eight other major projects including bus and rail spanning Long Beach and Downtown LA. While this $350 million dollar project is wrapping up, there will still be continued work on the $2-billion dollar Crenshaw line through next year. On Nov 2nd, 3rd, & 4th, Angelenos will be able to enjoy free rides to celebrate the reopening.
---
At the request of West Virginia state leadership during a special meeting held last Monday evening to support the continuation of West Virginia's MARC train service. The contribution is part of an overall $300,000 in funding required from local governments, as part of a funding plan outlined in a letter last week from Governor Jim Justice's Chief of Staff, William Michael Hall.
Maryland has indicated that MARC rail service will be reduced on November 4 if necessary funding has not been contributed. The state legislature committed $1.1 million toward the service in the current years budget so an additional $2.4 million needs to be secured to maintain service.
The letter listed funding levels to be approved and contributed by each of the counties and municipalities based upon the respective leadership's proposed portion:
Berkeley County: $177,023
Jefferson County: $82,810
Martinsburg: $25,458
Charles Town: $8,839
Ranson: $7,553
Harpers Ferry: $410
Bolivar: $1,496
Shepherdstown: $2,711
The county and municipality contributions total the $300,000 local match mentioned in the letter from the governor's office.
"If your local governments choose to support this service and contribute a minimum of $300,000 the Governor will commit to identifying and providing the remaining funding for this current fiscal year and will work to secure a multiyear agreement with Maryland based upon Maryland's actual cost and other factors," the letter said. "The Governor has informed me that he will also commit to working with state and local leaders to identify sustainable methods of funding for this train service including through potential varying increases and great participation from local governments on a timeline that will allow for local budgets to account for a local share on a graduated basis."
---
for a total of $450 million to $500 million in funding available under the Transit and Intercity Rail Capital Program (TIRCP).
The TIRCP was created by California legislation to fund projects designed to modernize and expand the state's intercity, commuter and urban rail systems, as well as reduce greenhouse gas emissions.
Grant recipients will receive a portion of funding available to the TIRCP during the fiscal-year 2020-21 to
FY2024-25 time period, CalSTA officials said in a press release.
The application deadline is Jan. 16, 2020. Grant recipients will be announced by April 1, 2020.
Also last week, CalSTA issued final guidelines for the program following a public review of draft guidelines.
---
Rail Passengers Track Update
Where are we and what are we working on? This section will give you updates on what Rail Passengers HQ is up to.
Jim Mathews, President & CEO, on Monday toured active construction sites for the California High-Speed Rail project, visiting three sites between Fresno and Bakersfield with a group of Rail Passengers members. On Thursday, Mathews presented the case for rail investment in Montana to a high-level group of state officials and congressional delegation staff, telling attendees at the Montana Rail Summit that the state should consider setting up a Montana Rail Authority to help spur the revival of the North Coast Hiawatha line.

Sean Jeans Gail, Vice President of Policy, is traveling across the Bay Area seeking input from local transit officials and planners regarding the upcoming surface transportation reauthorization. Jeans-Gail spoke before a panel convened by SPUR in San Jose, focused on fixing America's transportation system through local and federal policy changes.

Carolyn Cokley, Director of Customer Programs, has finalized meeting plans with transit stakeholders in Fort Worth, TX. The meeting will take place on Monday, November 4 and will include reps from Amtrak, Trinity Metro, Fort Worth City Council, Fort Worth Convention and Visitors Bureau and Fort Worth Chamber of Commerce as well as Rail Passenger members from around the state. We will discuss soliciting support from the city and next steps for an Open House to recruit new members to replenish the long standing Station Volunteer Program. Talks have also begun to establish a station volunteer program in Kalamazoo, MI by invitation of MDOT. Carolyn is planning to meet with them before the holiday.

Joseph Aiello, Field Coordinator, is home now after a wonderful week in Sacramento for RailNation. He also spent time in Oakland with the BART social media team.

Madi Butler, Grassroots Organizer, wrapped up meetings with the BART social media team and toured the express Muni routes to and from the newly opened Chase Center in SF. Madi is now looking forward to going to Fort Worth to help facilitate the advancement of the Station Volunteer Program along the Texas Eagle route.

Bruce Becker, Vice-President of Operations, enjoyed a few days of vacation following RailNation:California.

Jonsie Stone, Director of Resource Development, enjoyed a few days off following RailNation:California.

Kim Williams, Membership Manager, spoke with members about their experiences with Rail Passengers and took over a few admin responsibilities while everyone returned from RailNation.

---
The Rail Passengers Association would like to thank our Annual Partners for their support.
---
We are excited to welcome Texas Rail Advocates as our newest Annual Partner.
The Southwestern Rail Conference is hosted by Texas Rail Advocates, the largest grass-roots, non-profit organization in Texas that promotes smart development of freight and passenger rail throughout the Southwest. To learn more about the Conference please click the image below.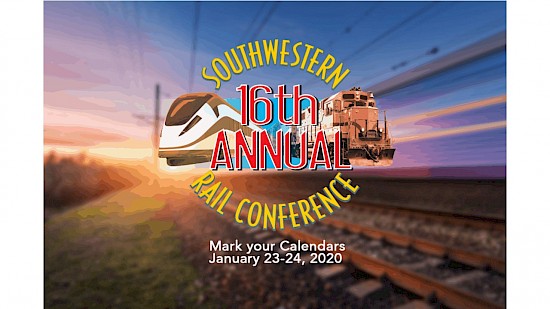 ---
This winter, service will be expanded Friday, Saturday, and Sunday. Tickets have already gone on sale in anticipation of January's extended service. After hearing feedback on last year's limited provisions, only two weekends a month, this is a welcome improvement.
Fares will start at $29 each way and can be purchased at Amtrak.com/WinterParkExpress. Passengers can enjoy the sightseer lounge as they wind their way into the peaks. Trains depart Denver at 7 a.m. and arrive around 9 a.m. They leave Winter Park at 4:30 p.m. and return to Union Station at 6:40 p.m. Each ticketed adult may bring a child, age 2-12, for half the adult fare.
---
for a Plan B, or off-ramp, as they embraced a public-private partnership or P3. This procurement is underway with multiple parties bidding for the transit project and construction work valued at approx. $1.4 billion.
"At that time, we didn't know if we would get bidders interested in that proposition," said HART Executive Director Andrew Robbins. "We're well beyond it."
While the agency has outlined affordability caps for bidders to signal how much taxpayers can afford to spend, if the bids still come in too high, HART has "various levers, if you will, that we can pull" — alternate concepts that prevent procurement from starting from scratch. Robbins added.
The bidders have heavily invested to make sure their bids are successful. The city would only pay them via taxpayer dollars after they hit certain milestones showing the goal is to transfer much of the risk to the private sector and keep costs in check. HART should be receiving all bids by the end of January.
It's a good sign that they're hashing out the details now instead of later, after the bids come in, Robbins said.
Honolulu Councilwoman Heidi Tsuneyoshi introduced a resolution earlier this month that would have the City Council approve the contract first. HART and the city are procuring that contract jointly because of the operations and maintenance component.
The Councilwoman called for a resolution that would set the City Council to approve any contracts first. "It's a situation of transparency … to be able to have the same information" since the council approves the city budget. "Without specifics it's very hard to figure out what we're obligating the taxpayers to."
The council will take up Tsuneyoshi's measure, Resolution 19-256, Tuesday at its Executive Matters and Legal Affairs committee meeting.
---
In a presentation last week to the Clark County Board of Commissioners in Las Vegas, representatives from Virgin Trains USA announced that they are prepared to break ground on the 170-mile route between Vegas and Victorville, CA in mid-2020. Virgin Trains was at the meeting to seek support for the project as well as the tax-exempt, private activity bonds they will use for funding in Nevada - the same method of funding they have used for their service and expansion in Florida. An official from the former Brightline said that the company is moving faster than others have in the past to get revenue trains in service by late 2023 and that providing service beyond Victorville will be "a key component to expanding the system" as they look towards downtown Los Angeles in the future.
---
Upcoming Regional Rail Passenger & State Association Member Meetings and Other Events:
Please contact Bruce Becker to have a state or regional event or meeting added to the Rail Passengers calendar of upcoming events!
---
PASSENGER SERVICE NOTICES
Track Work Affects Downeaster Service
Effective Oct. 25 through 28, 2019
Track work being performed by Pan Am, will affect Downeaster service as described below:
Friday, October 25
Trains 685 and 687, which normally operate between Boston North Station and Brunswick, will terminate at Portland. Alternate transportation will be provided between Portland and Brunswick, making an intermediate stop at Freeport.
Saturday, October 26 and Sunday, October 27
Trains 691, 693, 695, 697 and 699, which normally operate between Boston North Station and Brunswick, will terminate at Wells. Alternate transportation will be provided between Wells and Brunswick, making intermediate stops at Portland and Freeport. No alternate transportation will be provided to Saco.

Trains 690, 692, 694, 696 and 698, which normally operate between Brunswick and Boston North Station, will originate at Wells. Alternate transportation will be provided between Brunswick and Wells, making intermediate stops at Freeport and Portland. No alternate transportation will be provided to Saco.
Whirlpool Bridge Work Affects Maple Leaf Service
Effective Sept. 9 through Nov. 8, 2019
Beginning Monday, September 9, a major infrastructure project will begin on the Whirlpool Bridge, connecting the United States to Canada at Niagara Falls. To accommodate this work, Amtrak's Maple Leaf Service will be adjusted as follows:
Train 63 Sept. 8 through Nov. 8
Train 63 which normally operates between New York Penn Station and Toronto, ON, will terminate at Niagara Falls, NY. Alternate transportation will be provided between Niagara Falls and Toronto, stopping at Niagara Falls, ON.

Bus 4498 will operate between Niagara Falls and Toronto with no intermediate stops at St. Catharines, ON, Grimsby, ON, Aldershot, ON and Oakville, ON.
Train 64 Sept. 9 through Nov. 9
Train 64 which normally operates between Toronto and New York Penn Station, will originate at Niagara Falls, NY. Alternate transportation will be provided between Toronto and Niagara Falls, stopping at Niagara Falls, ON.

Bus 4497 will operate between Toronto and Niagara Falls with no intermediate stops at Oakville, ON, Aldershot, ON, Grimsby, ON or St. Catharines, ON. Proper documentation is required to cross the U.S./Canadian border.
Piedmont Trains 74, 75, 76 and 77 and Carolinian Train 80 Track Work Affects Service
Tuesday, October 29, 2019
Track work being performed by Norfolk Southern will affect Piedmont and Carolinian service on Tuesday, October 29.
Piedmont Service Trains 74, 75, 76 and 77, which operate between Charlotte and Raleigh, are cancelled. Alternate transportation is not provided.

Carolinian Service Train 80, which normally operates between Charlotte and New York, will originate at Raleigh. Alternate transportation is not provided between Charlotte and Raleigh.

All other Carolinian and Piedmont service trains will operate normally on these dates.
New York ClubAcela Lounge
Ongoing Improvements
Attention Amtrak Passengers Amtrak is taking steps to modernize and refresh the customer waiting areas at New York Penn Station.
As a result, the ClubAcela Lounge will be closed on Saturday, October 26 and Sunday, October 27 for the renovation. Temporary seating accommodations will be available in the Amtrak/NJ TRANSIT ticketed waiting room, located on the main concourse near Tracks 13 and 14 East.
The ClubAcela will reopen on Monday, October 28.
Carolinian Train 79 and 80 Piedmont Trains 73, 74, 75, 76, 77 and 78
NC State Fair and Lexington BBQ Festival
Effective Oct. 18 through 27, 2019
Carolinian and Piedmont trains will make an additional stop for the North Carolina State Fair and Lexington BBQ Festival from October 18 through 27.
North Carolina State Fair Oct. 18 through 27
Train 77 and 80 will make an additional stop at North Carolina State Fair.

Train 80 will arrive at the State Fair at 9:53 am and only discharge passengers.

Train 77 will depart the State Fair at 3:09 pm and only receive passengers.
Lexington BBQ Festival Saturday Oct. 26 Only
Trains 73, 74, 75, 76, 77, 78, 79 and 80 will be making an additional stop at Lexington for the Lexington BBQ Festival on Saturday, October 26.
Fire Activity in Southern CA Affects Amtrak Thruway Service
Effective Immediately
Due to fire activity in southern California, Amtrak's Thruway bus service may be affected.
Caltrans has announced Interstate 5, 405 and State Routes 14 and 118 may have full or partial ramp and highway closures.
To monitor the fire and highway closures visit
or see real time traffic at http://cad.chp.ca.gov/
or planned closures https://lcswebreports.dot.ca.gov/searchdistricts?district=5
Briceburg Fire near Yosemite Park Affects San Joaquins Thruway Service
Effective Immediately
Due to the Briceburg fire happening around Yosemite Park, Amtrak's Thruway bus service will be affected.
All Yosemite Area Regional Transportation System bus service between Merced and Yosemite Valley Visitor's Center will be suspended until further notice.
As officials monitor the fire, schedule updates may be made. Please use caution and stay safe in the areas near the fire.
Pacific Surfliner Weekend Service Changes
Friday, Saturday and Sunday, October 27, 2019
Track work being performed by North County Transit District will affect Pacific Surfliner service on the dates shown below:
Friday, October 25
Train 590 will be cancelled. Passengers can make reservations aboard other Amtrak trains.

Bus service will be provided from Los Angeles to San Diego, making stops at Oceanside, Solana Beach, Old Town San Diego and San Diego Downtown. No alternate transportation will be provided to Fullerton, Anaheim, Santa Ana, Irvine and San Juan Capistrano.
Saturday and Sunday, October 26-27
Trains 562, 578, 583, 591, 1565, 1566, 1569, 1572, 1573 and 1590 will be cancelled. Passengers can make reservations aboard other Amtrak trains.
Southbound Train 782 will terminate at Los Angeles. No alternate transportation will be provided between Los Angeles and San Diego. Passengers can make reservations aboard other Pacific Surfliner trains.

Southbound Train 796 will terminate at Los Angeles and bus service will be provided for all missed stops.

Southbound Trains 580, 768, 774, 792, 1564 and 1584 will operate normally to Irvine, where bus service will be provided from Irvine to San Diego. Express buses will run from Irvine to San Juan Capistrano, Oceanside, Solana Beach, Old Town San Diego and downtown San Diego only.

Northbound Trains 593, 595, 763, 777, 785, 579, 1761 and 1767 will originate in Irvine. Bus service will be provided from San Diego to Irvine to connect with the trains listed above, except for Train 1761. Buses will depart downtown San Diego, Solana Beach, Oceanside and San Juan Capistrano earlier than the train schedule to allow time to connect with trains in Irvine. o Buses will not pick up at Old Town San Diego. Passengers can take the trolley to downtown San Diego to board buses to Irvine.

Bus service will not be provided to connect with Train 1761.

Metrolink will honor Amtrak tickets between Irvine and Los Angeles.
San Francisco Thruway Stop Moves to a New Location
Effective Oct. 28, 2019
Effective Oct. 28, Amtrak Thruway buses will stop at the Salesforce Plaza in place of the Transbay Temporary Terminal stop.
Salesforce Plaza is an unstaffed, curbside stop on the south side of Mission at Fremont. It is adjacent to the aerial tramway (gondola) that runs from the Plaza to the top of the Salesforce Transit Center Terminal. Passengers requiring a staffed station may use Emeryville and Oakland Jack London Square.
For bookings and train status information or tickets visit Amtrak.com, use our free mobile app, speak with station personnel or call us at 800-USA-RAIL (800-872-7245). Thank you for choosing Amtrak.
Downeaster Service Schedule Change
Effective October 21, 2019
Due to seasonal ridership changes, Downeaster Service will make schedule adjustments as outlined below:
Southbound
Train 692 will operate 30 minutes later than the current schedule.

Train 696 will operate 45 minutes earlier than the current schedule.
Northbound
Train 691 will operate 10 minutes later than the current schedule.

Train 693 will operate one hour and 40 minutes later than the current schedule.

Train 697 will operate 45 minutes earlier than the current schedule. Old Orchard Beach station stop will be discontinued during the off season.
Keystone Service Schedule Changes
Effective through Nov. 3, 2019
Due to track work being performed along the Keystone Service line, some schedules will be affected through Nov. 3 as outlined below.
Eastbound Weekdays
Train 600 will operate 5 minutes later from Elizabethtown to Philadelphia

Train 648 will operate 5 minutes earlier from Harrisburg to Paoli and will arrive on time into Philadelphia.

Train 650 will operate 5 minutes earlier from Harrisburg to Paoli and 1 minute earlier into Philadelphia
Eastbound Weekends
Train 612 will operate 10 minutes later from Harrisburg to Philadelphia

Train 670 will operate 15 minutes earlier from Harrisburg to Philadelphia
Westbound Weekdays
Train 641 will operate 5 minutes later from Elizabethtown to Middletown and 3 minutes later into Harrisburg

Train 643 will operate 4 minutes later from Elizabethtown to Harrisburg

Train 651 will operate 4 minutes later from Elizabethtown to Middletown and will arrive on time into Harrisburg
Westbound Weekends
Train 611 will operate 5 minutes later from Elizabethtown to Harrisburg

Train 661 will operate 3 minutes later from Elizabethtown to Harrisburg
Elizabethtown Station Boarding
Track 2 will be closed for boarding effective July 22, 2019

Passengers traveling to Harrisburg will need to board on Track 1
---
Travelers' Tip For The Week
Get up to 45% Off Six Tickets for your group of six with Share Fares
Amtrak is now offering Share Fares that allow traveling with friends and family easier and more cost efficient. The more you bring, the more you save. Here's how it works:
Passenger 1 – full price

Passenger 2 – 15% off full price

Passenger 3 – 60% off full price

Passenger 4 – 70% off full price

Passenger 5 – 70% off full price

Passenger 6 – 70% off full price
Up to 45% off all six tickets, gives you more to spend on hotels, cocktails, tours and activities. Enjoy your vacation with your favorite friends and family. Discount applied automatically when qualifying travel is selected in the Fare Finder below.
Terms and conditions:
Valid for up to six (6) passengers travelling together on the same itinerary.

The First passenger will pay the full regular adult fare, Companion One (1) will receive a 15% discount, Companion Two (2) will receive a 60% discount, and Companion Three (3) will receive a 70% discount Companion Four (4) will receive a 70% discount, and Companion Five (5) will receive a 70% discount off the full adult rail fare.

Valid for sale beginning August 12, 2019.

Valid for travel beginning August 14, 2019.

Advance reservations are required a minimum of two (2) days prior to travel.

Valid for travel on all service except Acela, Amtrak Hartford Line, Capitol Corridor, Ethan Allen Express, Hiawatha, Keystone Service, Canadian section of the Maple Leaf, Pacific Surfliner, Pennsylvanian, Valley Flyer, Vermonter and 7000-8999 Thruways.

The companion(s) is subject to coach seats only; no upgrades permitted.

Not combinable with any other discount offer. This means Rail Passenger 10% member discount.

In addition to the discount restrictions, this offer is also subject to any restrictions, blackouts and refund rules that apply to the type of fare purchased.

A cancellation fee may apply.

Once travel has begun, no changes to the itinerary are permitted.

Fares, routes and schedules are subject to change without notice.

Seating is limited. Seats may not be available on all days.

Fares are subject to availability.

Offer valid for new sales only; does not apply to existing reservations.

Other restrictions may apply.
---
Your Feedback is Important to Improving American Passenger Trains
As you travel, please help us promote the Travel Review with other rail passengers. As you encounter passengers who want to make their positive and negative opinions known, please direct them to www.railpassengers.org/Travel Review. All participants will remain anonymous. If you encounter any problems with the Travel Review, or have any questions, please send an email to [email protected]
Do You Need More TravelReview Feedback Cards?
Please help us to spread the word. We need your help in engaging other passengers when you travel and let them know that their feedback is welcomed by RailPax. To facilitate this sharing of information the TravelReview Feedback Card is now available for you to download and print for regular usage. The card can be given to fellow passengers to introduce the work that RailPax is doing as well as our desire to have their feedback. The cards can also be left behind in stations as you pass through.
The template is in a .pdf format and will open in Adobe document cloud. First download the file and save it to your desktop for easy access. Then print as needed. The original template is formatted for Avery 5871 or 5371 cardstock which are both 2" x 3½" business card formats. Any brand cardstock should function as long as the dimensions match.
If you experience any problem in accessing the file, please send an email to [email protected]
---
Planning a fall vacation including trains (and who wouldn't want to enjoy the fall colors?), then you need a copy of Lonely Planet's 'Amazing Train Journeys' guidebook! And with every purchase Lonely Planet will donate 15% of the proceeds to your Association, to help us keep working for More Trains, Better Trains and a commitment to better infrastructure.
Through this beautiful book, you'll experience 60 of the world's greatest and most unforgettable train journeys, from classic long-distance trips like Western Canada's Rocky Mountaineer and Darwin to Adelaide's The Ghan, to little-known gems on regular commuting lines. It's the culmination of asking more than 200 travel writers for their absolute favorites.
Some are epic international adventures, others are short suburban routes along stunning coastline. There are incredible feats of engineering, trains that snake their way through mountain peaks, and even those which have achieved Unesco World Heritage status.
More than just a collection, each profile will give you the practical information you need to experience one or more of these epic journeys yourself -- including ticket options, timetables and stops, plus inspiring photos and illustrated maps. It's all here!
Amazing Train Journeys is available as a book, e-Book or in both formats at a low combination price. And your purchase helps supports your Association's mission too! Remember, Lonely Planet is contributing 15% of all Amazing Train Journeys sales to Rail Passengers! You can order copies by clicking here!
Fall MemberDeals Announced
MemberDeals is already looking ahead to October as tickets for Halloween Horror Nights are already available for purchase. Summer Concerts Series sale continues with savings over 50% exclusive for Rail Passengers members. Celebrate concert season with the hottest concerts nationwide, from Luke Bryan, Third Eye Blind, Heart and The Who to name a few. Don't miss out!
Remember, if you want to use these great internet-only discounts, you must be a member in good standing AND be logged in to the Rail Passengers website. If you need help accessing these discounts email us at [email protected], or call the office at 202-408-8362.
---
Nominations Are Now Open For 2020 Election Of Council Of Representative Members
Rail Passengers' is inviting all members in good standing to consider running for seats on the Council of Representatives, the Association's volunteer governing body. The next election for seats on Council will occur in January 2020 for a two-year term starting March 1, 2020. Any Rail Passengers member, who has paid dues for at least one year, is at least 18-years of age and is a U.S. resident is eligible to run.
The Council consists of 112 elected state representatives. The number of representatives per state is determined by an equally weighted ratio of the Rail Passenger members in a given state and the state's number of U.S. Representatives. Every state has at least one Council Representative. The certified number of Council seats to be elected, per state, in January 2020 can be found on the Rail Passenger website under 'Join the Council'.
The Council of Representatives represents the overall Rail Passenger membership in setting and approving the overall policy and direction for the Association. The Council elects the Officers and Board of Directors of the Association, in addition to up to 10 'At-Large' members of the Council. Serving on the Council is a great opportunity to collaborate with others who have a common interest in actively improving passenger rail service across the country. Council members are expected to encourage activities at the grass roots level to advance the Association's goals and represent local needs, issues and activities at the national level.
The Council meets in person twice per year; in the spring in Washington, D.C., and in the fall at varied locations across the country. Council members are responsible for their own travel and meeting expenses to attend these gatherings and they may be able to apply these expenses on their federal tax returns. Incumbent Council Representatives who seek re-election must have attended at least two of the four meetings held during each Council term.
Members interested in running for a seat on the Council must complete and submit a Candidate Information Statement for review and qualification by 11:59 p.m. local time on December 1, 2019. The Candidate Information Statement is available on the Rail Passengers website or by requesting a printed copy from the Rail Passengers' DC office. Complete information on serving on the Council of Representatives; detailed specifications on the election procedures and the Candidate Information Statement can be found on the Rail Passengers website under 'Join the Council'
The Rail Passengers Association is only as strong as the leaders who step up and share their time and talents in working towards our collective goals. Please consider becoming one of these leaders and help make a difference in the future.
"The COVID Pandemic has been and continues to be the biggest challenge faced by Americans as it has taken a deadly toll on the world and on the world's economies. During COVID Locomotive Engineers at Amtrak and other Passenger and Freight Railroads have embodied the definition of essential workers. This dedication by our members is not new. We applaud the Rail Passenger's Association for recognizing the vital contributions of our members and their hard work moving Americans and freight during the COVID pandemic."
Dennis Pierce, Brotherhood of Locomotive Engineers and Trainmen (BLET) National President
December 21, 2021, on the Association awarding its 2021 Golden Spike Award to the Frontline Amtrak Employees.